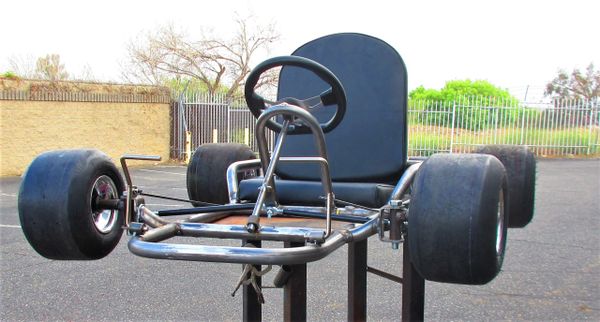 Vintage Go Kart Kit
 our new Vintage style go kart. we brought back one of our first go kart we built in the 1980's added some up grades to get what you see. We are now in production of this Go kart, call us about shipping
-0054

Vintage style Go-kart with 6" Tri Star Wheel and 6" vintage slicks,
Our New Vintage Go kart we call the Dominator GK2 is shown with the 6" standard tires . narrow slicks for the vintage racing go kart classes' . other wheels and tires are available as an option.
Specifications for the Dominator GK2
Total length 60" , total width 39" , Ground clearance (with off road tires) 5.5" , ground to top of seat hoop 26" , seat to pedals 38"
1-1/4" round tubing mig welded
seat loop 1" 090 steel tubing
steering loop 1" .090 tubing
Steering shaft 5/8" solid shaft with pit arm welded in place
11" Pro steering wheel with hub
1" x 38" steel rear axle with 1/4" key ways
front spindles 5/8" axles
tie rods with aircraft quality rod ends 3/8" left and right for easy adjustments
racer type gas and brake pedals with hardware and linkage
padded seat (Black only)
disk brake (mechanical) with rotor
sprocket 54 tooth for 420 chain
sprocket hub
Motor plate is for any 4 to 7 hp motors like Honda GX 200 GX180 , HFT 212 , Briggs and more
OPTION 1 , is (4) 145x70x6" tubeless off-road tires (2) front steel wheels with 5/8" pression bearings (2 ) rear steel 1" drive wheels
1970's vintage racing style go kart , affordable, easy to drive. Go karts are always a great way for a family to have fun together , Bring back the good old day's with this vintage Gokart type racer
vintage go kart , gokart , go kart racing , kart , motorized go karts, old school go kart ,go-karting , racing go-karts ,